Festival Toscano di Musica Antica XXIII edizione
curato da Fondazione Teatro di Pisa e l'ensemble in residenza Auser Musici con la direzione artistica di Carlo Ipata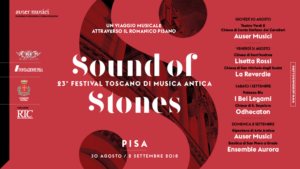 Un viaggio musicale attraverso il romanico pisano, un itinerario culturale completo, un'esperienza unica nel cuore di Pisa.
Per il concerto inaugurale, giovedì 30 agosto, l'ensemble Auser Musici, diretto da Carlo Ipata, offrirà la prima esecuzione mondiale di un'opera di Antonio Vivaldi, appena scoperta a Pisa: una Sonata per due violini e basso continuo.
Thursday, August 30, 2018
6.30 p.m.
Teatro Verdi, via Palestro 40
Auser Musici 
The Genius Telemann
Light dinner and cocktail
Teatro di Pisa
in cooperation with Caffè Foyer
>>> RESERVATION
9.30 p.m.
Chiesa di Santo Stefano dei Cavalieri, piazza dei Cavalieri
Auser Musici
Vivaldi premiere
>>> RESERVATION
—
Friday, August 31, 2018
Pisa and its history: a tour of the city center
Visit of the famous Piazza dei Miracoli, entrance to the Cathedral and the Baptistery, tour along the streets of the cit center up to the Lungarni, always guided by the experts of PisaGuide.
Meeting point 10.00 a.m  Putti fountain, in front of the Leaning Tower
>>> RESERVATION
6.30 p.m.
Teatro Sant'Andrea, via del Cuore
Lisetta Rossi 
The harp of the Grand Duke
Light dinner and cocktail
Ristorante del Cuore, via del Cuore, 1
in cooperation with Circolo L'Alba
>>> RESERVATION
9.30 p.m.
Chiesa di San Michele degli Scalzi, Via S. Michele degli Scalzi, 167
La Reverdie
Vergine bella
>>> RESERVATION
—
Saturday, September 1, 2018
Pisa and its food and wine: visit to Fauglia. Fattoria Uccelliera (wine tasting) and Caseificio Busti (cheese tasting) 
Meeting point 9.00 a.m viale Gramsci (next to the Station)
>>> RESERVATION
6.30 p.m.
Chiostro di Palazzo Blu, lungarno Gambacorti 9
I bei legami
Sacrae Cantiones
Light dinner and cocktail
Chiostro di Palazzo Blu
in cooperation with CNA
>>> RESERVATION
9.30 p.m
Chiesa di San Sepolcro, piazza San Sepolcro
OdeChaton
Imago Virginis
>>> RESERVATION
—
Sunday, September 2, 2018
Pisa and its environment: the Park of San Rossore
Guided tour of the second largest park in Tuscany, discovering the variety of flora and fauna of the Tenuta San Rossore.
Meeting point 9.30 a.m via Cardinale Maffi (next to the leaning tower)
>>> RESERVATION
6.30 p.m.
Gipsoteca, piazza San Paolo all'Orto
Auser Musici
Suona Boemo
Light dinner and cocktail
Teatro di Pisa
in cooperation with Caffè Foyer
>>> RESERVATION
9.30 p.m.
Basilica di San Piero a Grado, Via Vecchia di Marina, 5
Ensemble Aurora
Baldassarre Galuppi, la musica sacra del Buranello
>>> RESERVATION
THE GASPARINI ALBUM !
The Gasparini Album is 5 stars on Musica – Rivista di cultura musicale e discografica!
"An unblemished success in every respect". RECORDING OF THE MONTH on Musicweb
The latest striking release from soprano Roberta Invernizzi acts as a lightning conductor for this new vocal extravaganza from Glossa devoted to the Italian Baroque composer Francesco Gasparini. Invernizzi finds herself very much home both in the music – which was originally first performed around the turn of the eighteenth century and which provided "influences" for Handel, who was Gasparini's junior by some 20 years – but also, so noticeably, with the words: librettos from the likes of Zeno, Piovene or Salvi find this singer exercising her customary intelligence.
Carlo Ipata, directing his ensemble Auser Musici, combines his natural and obvious flair for Italian and music of the time – he has also recorded the opera Il Bajazet for Glossa – with the painstaking demands of the research required to identify brilliant arias from slumbering the various shades of neglect. Gasparini wrote some sixty operas, as well as oratorios and many cantatas. For Invernizzi Ipata has crafted a beguiling selection from this abundance of music which proved so successful in both princely soirées in Rome and public theatres in Venice. Arias come from operas such as Il Roderigo and Amleto and oratorios such as L'oracolo del Fato and Atalia. As well as the cantata, Andate o miei sospiri, composed by Gasparini as part of a challenge undertaken jointly with Alessandro Scarlatti, Ipata and Auser Musici have added an attractive flute concerto written during his time as a teacher at Venice's Ospedale della Pietà.
Associazione Auser Musici
c/o Teatro di Pisa, Via Palestro 40, 56127 Pisa
+ 39 (0)50 941144
info@ausermusici.org