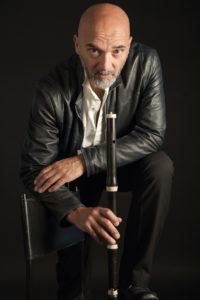 Flautist, director and founder of the Auser Musici ensemble, Carlo Ipata is recognized by international critics as one of the reference interpreters of early music for his meticulous research on the instrumental and operatic repertoire of the 17th and 18th centuries.
He is a guest on the billboards of major festivals in Europe, USA, Russia, Israel, with programs and projects that have seen him conduct and play with soloists and singers such as Maria Grazia Schiavo, Sonia Prina, Raffaele Pe, Yuri Minenko, David Hansen, Philip Meneccia. Raffaella Milanesi, Roberta Mameli, Roberta Invernizzi and Kristina Hammarström.
He has made the first contemporary performances of Le disgrazie d'Amore by Antonio Cesti, L'Empio Punito and Il Girello by Alessandro and Jacopo Melani, Il Bajazet by Francesco Gasparini, Gli equivoci nel sembiante by Alessandro Scarlatti, Pasticci Catone and Arbace by Händel, Didone abandonata by L. Leo performed at the Händel Festival in Halle, at the Teatro del Maggio Musicale Fiorentino and recorded for the Glossa and Hyperion labels.
He has recently reconstructed Lully's comedy-ballet L'Amour malade and Pergolesi's Il Maestro di Musica and has conducted two new Handelian productions, Giulio Cesare at the Teatro di Pisa and Ottone with the Deutsche Händel-Solisten at the Staatstheater in Karlsruhe.
With the CD The Gasparini Album (Glossa) he was finalist at the ICMA (International Classical Music Award) while the recent Vivaldi Concerti per traversiere op X (Glossa) was successfully presented in the Concerti del Quirinale season.