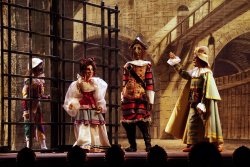 […] resti sì bella moda
ai bassi, ai grandi,
e una volta per un,
ciascun comandi.
Dramma burlesco
Music by Jacopo Melani
Libretto by Filippo Acciauoli
Roma, 1668
One of the most performed titles in Italy during the XVI Century! A stinging satire of power that through the characters and the funniness of the Commedia dell'arte shows a wonderful example of a musical theater that overcomes the clichés of the time. A production that reproduces philologically the version with the puppets made in Venice in 1682.
Production: Auser Music / Company F.lli Colla / Fondazione Teatro di Pisa
Pistoia Capital of Culture 2017